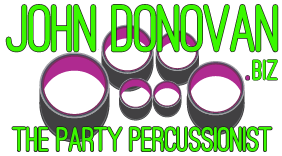 A

bout John Donovan
The Party Percussionist
Audiences of all ages are thrilled and energized by John Donovans dazzling technique, original artistry and interactive showmanship. As a sought after live percussionist for luxury weddings, mitzvahs and corporate events, John has entertained at hundreds of private events from coast-to-coast. Performing with a DJ or Band, his historical live re-mixing of drum corps style percussion and dance music adds an exciting live musical and visual element to the mix, blending and augmenting perfectly with the performance selections.
DJ Times Magazine quotes "John Donovan is The Party Percussionist."
Like most drummers, John began by playing rock and roll. Private lessons starting at age four would commence his musical education preparation for various public school ensembles. Four years of drum corps training would then instill a lifelong work ethic into the Marching Percussion Arts. John then gained experience with professional dance bands, rock bands, metal bands, jazz bands, musical theater pit orchestras, amusement park marching bands and cruise ship orchestras. In 2007, John Donovan broke into the Long Island Mobile DJ Market as a live musician serving a predominantly discerning and affluential Jewish clientele mostly at high-end weddings and mitzvahs and the rest is history.
Combining DJ entertainment with the live band vibe, DCI World Champion John Donovan has worked with DJ Nick Hogan, son of celebrity professional wrestling Hall of Famer Hulk Hogan, and was on the same bill as international dance music superstar Lucas Prata at a fundraiser for a new children's hospital. As a child, John Donovan toured the United States and Japan with Jerome Collins of Straight No Chaser in a boys choir. John has also worked with TV stars from Mob Wives, Jerseylicious, Jersey Couture, entertained the family of Twisted Sisters Dee Snyder and in 2014 John Donovan was filmed by HARPO for a Major TV network show entitled "Oprah: Where Are They Now," featuring Danielle Staub of The Real Housewives of New Jersey Fame in celebration of Jillian Staubs Sweet 16. John also performed in a Drumline with the celebrity band 311 at the MGM Grand Garden Arena in Las Vegas, and with One Man Religion, whom opened for internationally recognized metal band, Breaking Benjamin.
To his credit, John has been featured in DJ Times Magazine, Mobile Beat Magazine, Awarded Kit of the Month in Modern Drummer Magazine, as well as mentioned in Percussion News and countless DJ industry news sources throughout the organized DJ industry. John Donovan has been a featured performer at the International DJ Times Expo in Atlantic City, NAMM (National Association of Music Merchants) in Anaheim, California, and the Mobile Beat Show & Conference in Las Vegas.
As a percussion clinician and educator, John has presented for the Sam Ash Music Store Chain and in 2009, John shared the stage with snare drumming legend Nick Angelis, original cast member of the Emmy and Tony Award-Winning production of BLAST at the 2009 Percussive Arts Society New York Chapter Weekend of Percussion. In 2014, John Donovan was invited back for the second time to present at the Percussive Arts Society KoSA Music Weekend of Percussion at New York University, this time Co-presenting with New Jersey Disc Jockey Network (NJDJN) president Gregg Hollmann, a seminar entitled "How the DJ Industry benefits the Percussion Industry," which was followed by an ALL-STAR performance of one DJ and seven world class percussionists, all hand picked by John Donovan. Before Johns professional performance career took off, he served as composer, arranger, instructor, manager and consultant for Drumlines across the Northeast and Midwest and continues to give back to the educational community when time permits.
A Music Business Graduate of McNally Smith College of Music (formerly known as MusicTech), John Donovan received his performance training with Pioneer (1996 DCI Division II World Percussion Champions), Jersey Surf, and The Reading Buccaneers Drum & Bugle Corps. John Donovan is a performing artist and clinician with Mapex Marching Percussion, Paiste Cymbals and Vater Drumsticks.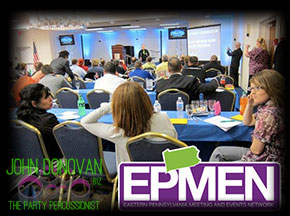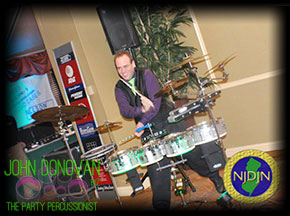 ---
---
John Donovan exclusively uses the following products