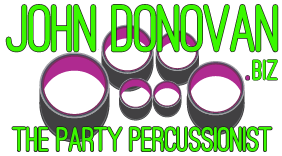 E

ducational Presentations

This is the Brand New John Donovan Drum Clinic Format entitled:

"How the DJ Industry Benefits the Percussion Industry"

Format design collaboration with NJ DJN President Gregg Hollmann

This Brand New Clinic format is designed to educate percussionists on:
- The history of the Mobile DJ Industry
- The organization and structure of the Mobile DJ Industry
- The three different skill levels of DJS
- How Mobile DJS acquire work
- How Percussionists fit into the picture for profit
- Average live percussionist retail values
- Deeper water vs. Shallow water marketing
- The keys to long term business relationships
- How to spot scams and con artists
- The glorious beauty and vicious evil of the Mobile DJ Industry

AND much much more!!!! Plus - each presentation concludes with a LIVE demonstration of John Donovan's historical re-mixing of corps style percussion and dance music.
---
Below is John Donovan with Andrew Beall, Percussive Arts Society New York Chapter President (2009-2014), Jonathan Haas, Director of the Percussion Studies Program at New York University and Aldo Mazza, Founder of Kosa Music at the 2014 Percussive Arts Society KoSA Music Weekend of Percussion at New York University.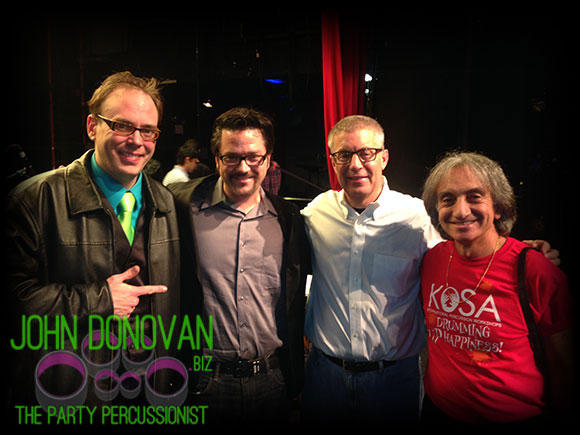 ---
---
John Donovan exclusively uses the following products